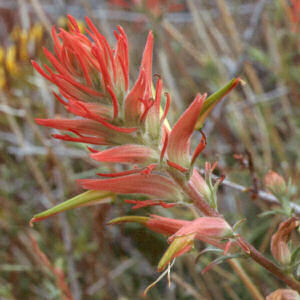 Wyoming State Flower
The Indian paintbrush adopted by the Wyoming Legislature met with some staunch opposition but in the end, prevailed to become the official flower.
In polls of Wyoming schoolchildren, the fringed gentian proved to be a favorite and it served as an unofficial state flower in the early years of the 20th century.
But, Wyoming had no official state flower and it was felt by many, among them the Daughters of the American Revolution in Wyoming, that it was important to choose one. After all, over half of the states had already designated a state flower by 1916.
The Wyoming Chapter of the Daughters of the American Revolution put their support behind the Indian paintbrush. The University of Wyoming's Dr. Grace Raymond Hebard drafted the legislation and found a sponsor for the bill.
One of the country's leading botanists, Dr. Aven Nelson, also of the University of Wyoming, objected to the adoption of the Indian paintbrush however. He made his objections known in the Wyoming School Journal of 1917.
* Indian paintbrushes were not common throughout the state.
* There were too many varieties and only an expert could tell them apart.
* They were parasitic, feeding on the roots of other plants.
* There was no widespread support for the plant.
* Unofficial, the fringed gentian chosen by Wyoming schoolchildren was a sentimental favorite.
Greater Fringed Gentia (Gentianopsis crinita (Froel.) Ma
Greater Fringed Gentia (Gentianopsis crinita (Froel.) Ma
Robert H. Mohlenbrock @ USDA-NRCS PLANTS Database
USDA SCS. 1989. Midwest wetland flora: Field office
illustrated guide to plant species. Midwest National
Technical Center, Lincoln, NE.
Dr. Nelson favored adoption of a flower that was common throughout the state and one that could be grown in gardens and suggested the columbine or the schoolchildren's favorite, the fringed gentian as options.
Dr. Hebard, lobbying for the Indian paintbrush, was a powerful opponent however. Political science professor, civil engineer, historian, author, Wyoming's first woman attorney, University Librarian, Head of the Department of Political Economy, suffragette, Grace Hebard was a force to be reckoned with. She lobbied hard for the Indian paintbrush, even commissioning a New York artist to paint a picture of the flower for the legislators.
The State of Wyoming, by an act of the Fourteenth State Legislature convened in Cheyenne and approved on January 31, 1917, made the Indian paintbrush (Castilleja linariaefolia) the official state flower of Wyoming.
After the Indian paintbrush was adopted, Dr. Hebard presented her commissioned painting to the state.
Wyoming's Indian paint brush (Castillija linariaefolia) is also referred to as the desert paintbrush, the Wyoming desert paintbrush, Wyoming paintbrush, the Linaria-leaved Indian Paintbrush, and, as indicated in the Wyoming statute, the Indian paint brush.
The Wyoming Statutes
The following information is excerpted from the Wyoming Statutes, Title 8, Chapter 3, Section 8-3-104.