My grandfather, and my greatest and most influential role model, wrote a book in 1984 entitled Olympic Thrills...to be honest, I have never read the book, and unfortunately I dont think many other people have either, (I was able to purchase it for $1,84 on biblio.com just now, and am paying a total of $5.73 with shipping) however my take on the premise of the book is that it focuses on the triumph as athletes and human accomplishments in spite of political rhetoric. During the span of the Olympic games countries have decided to boycott for political reasons, such as the United States boycott of the 1980 Olympic games held in Moscow, and vice-versa with the Russian boycott of the games held in 1984 in LA.
In the study of International Relations, the cold war is basically the premise for 97% of the classes. After World War II the world became divided between two 'hegemons' (a hegemon may be defined as a state or power that can dictate the policies of all other powers in its vicinity, or that is able to defeat any other power or combination of powers that it might be at war) which were the United States and Russia after the surrender of Germany and Japan. It is an era in history marked by two ideologies that defined world politics and still does define world politics today. A battle of Communism vs. Capitalism where each country decided to assert its influence and power in order to spread ideologies and create allies in a divided world. As we all know, the end of the Cold Was is symbolized with the falling of the Berlin Wall and thus the triumph of the United States, Western Capitalism and allegedly liberal democracy as a template for how a nation should govern its people in a fair and democratic way that will contribute to a world wide capitalistic economy--or as a bunch of diplomats call the Washington Consensus.
Now, with China, a communist nation, on the forefront of global news, attention is being drawn to politics and injustices that are occuring around the world, most importantly the civil was in Sudan and Chinese oppression of Tibet. Thus, in light of running the Olympic torch around the world, thousands of protesters have taken to the streets in Paris and will tomorrow, Wednesday, in San Francisco to raise attention on these conflicts that are so shrewdly hidden behind bureaucratic doors of large institutions such as the United Nations. It seems like everyone likes a good ol' fashioned protest, but do people really know what is actually happening around the world?
We need to educate ourselves on world politics.
We need to come together as humans.
We need to see beyond bureaucracies and be led by real leaders who inspire and encourage us to be better as a race of people, a human race, not led by an oppressive opportunistic group of small individuals who dont mind killing people and spending ungodly amounts of money for oil.
It is a time where people need to start coming out of their shells and start having real conversations.
Educate yourself, educate others around you, think freely, independently and conscientiously, learn...
TEACH...
INSPIRE!
Long-awaited Olympic torch route announced; city leaders condemn China in statement
Wyatt Buchanan, Chronicle Staff Writer April 1 2008
"The April 9 torch relay will start with an opening ceremony at McCovey Cove, travel along the Embarcadero, run past Fisherman's Wharf and briefly through the Marina District and back along the Embarcadero to Justin Herman Plaza, a spokeswoman for San Francisco Mayor Gavin Newsom said. A closing ceremony is scheduled to take place at the plaza.
The event will start at 1 p.m. and it will take the torch about an hour and a half to traverse the approximately 6-mile route, according to Giselle Barry, the spokeswoman for Newsom.
Mayor Gavin Newsom said an area in front of the Ferry Building - the route's end point - will be designated for protesters. No groups will need a permit to protest, he said, adding that more protesters are expected along the route than in the designated areas.
Officials said protesters will also be allowed in Union Square, Portsmouth Square, Civic Center and Washington Square, although those areas are generally far from the torch's announced route.
Several groups that plan on protesting the event say it has been difficult to organize their followers without the torch route.
Newsom warned activist groups to remember that the Olympics aren't about politics but about the performance of athletes and "the spirit of unity and the things that unite us.
"Don't protest the torch bearers," Newsom said. "Please separate your condemnation from the person who's running (with the torch) or in a wheelchair carrying the torch."'
World Town is an organization that is alive...our intent is entertainment but our goal is uniting people as people, allowing them various outlets to be who they are in this World. We all come from different backgrounds, and are proud of them. At the World Town parties, it is a time to celebrate who we really are...for people to come together and cross the boundaries of a sheltered lifestyle, meet someone new, dance to a beat that makes you move, embrace life and freedom...World Town is a movement, collective with a budding group of innovative individuals who are inspired by people, and how extreme others can be in regards to killing, genocide, civil war, capitalism, communism, oppression, freedom, and creativity.
Come join us in this movement, World Town will meet at 1:00 in Union Square in San Francisco to partake in this protest...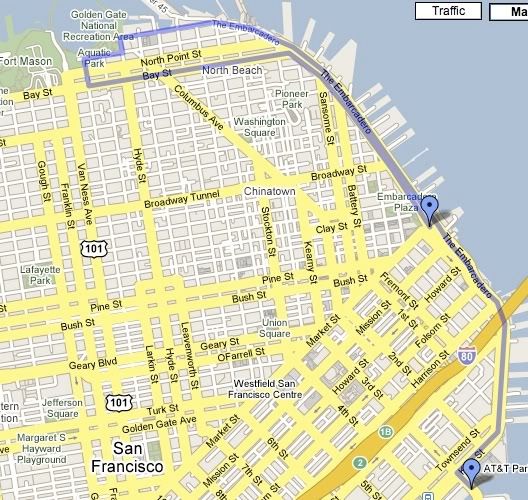 From late night quesadilla eviction parties, backyard BBQs, to large scale celebrations in nightclubs, and in a few years a world wide party...we are citizens of the world, we are World Town!
Organize your people...come find me on Wednesday...come find me any day...come talk to me about the world, the Washington Consensus or anything that may matter to you, to me, to anyone!
"People are people, why cant you see..."