"If a man traveled through Paradise in a dream,
and received a flower as proof of his passage,
then woke to find this flower in his hands...what then?"
-Jorge Luis Borges
I have been having an internal crisis with the online world--to the extent that I dont even know if I have written about it 13 times before or if it all circles in my head and manifests itself into growing internal conflict...what can I say, Im a Virgo and keep things inside until they explode in some way or another...for me its usually via writing. That is why I created this blog, International Vagabond. I love to travel the world, see different places, learn languages, practice slang, invent new words, pay a cheaper price for a beer, drink past 2:00 am, bounce to somewhere new where no one knows me and then be completely myself. It is a tough balance between getting to know a place with a defined group of friends who you can trust, count on and get to know the real individuals. It is another thing to go somewhere and become someone new, change your name, not talk to anyone, talk to everyone, be a writer, be a dancer, an artist, a tourist, a local that everyone loves or the village drunk...For me, I thrive on a combination of the two. I need to travel, but I have an amazing support network of friends I have made all around the world from various facets of life. From childhood friends, to college roommates, to random encounters while traveling, I try hard to stay in touch, and sometimes lose track of people. However, with all the social networking websites out there like Myspace, Facebook, Orkut and blogs where people can write and post whatever they want, it is easier to keep tabs on people. Thus, my dilemma. I have all the profiles for various Internet social networking sites...each profile is a little different as each site is a little different. Some people use these sites religiously as they are bored out of their mind at work sitting in front of a computer all day...I however, hardly have time to even check my email anymore as my jobs are much more "out in the field." (Dont even let me get started about using the word "field" to refer to the world.) In any case, after this large winding rant that might not make any sense, I just want to make my disclaimer...
Disclaimer:
I realize that whatever I post online the world can see, but I do not post everything online...I wish I could. My social networking profiles have a sarcastic and ironic twist to them that demonstrate a certain aspect of my personality, but in no way does it completely represent who I am...I dont event know who I am...every day I live my life to the fullest in order to take one step further at figuring all that out. And thus I dont make any decisions about people based on their online profiles as well, no matter how religiously one uses it. Long story short, I have a blog where I can try to defend myself for putting certain things on the Internet that I do, but I also have a brain and a strong will to really get to know people in person, wherever, whenever or however that may occur. Thats the fun part of all of this, you never know who is going to come across your page, or show up at your bar, or bump into at a very awkward moment in one or both people's lives.
The truth can be manipulated, reality can be hidden or perceived as something different that what it really is.
Do people even read anymore?
"People think we're stupid but were not." M.I.A.
Im just trying to make some change around here, my goals are lofty and my desire to change the world will always exist. Does it matter who I am or where I came from? All I know is that growing up where I did has given me the opportunity and desire to go the places I have been, lived the places I have lived, meet the people I have met, do the things that I do and have the experience that live brings to me...I can only hope that I can keep walking down this road, whether its a freeway, dirt road, back alley, switch back up a mountain, closed road, repaved road, pot holed road or a fork in the road...
you can place your Vegas bets that I will choose the one less traveled, because that is me, the International Vagabond, curious to see what the alternative routes are because you can ask the majority what the frequently traveled road holds, that is not a mystery. Greatness comes from chance, bravery, exploration, creativity, desire, passion, adventure, curiosity, learning, experiencing, participating, teaching, communicating, thinking, writing and evolving. The road less traveled lets me evolve, create new ideas and new experiences which all build to a greater, loftier reality...which one may or may not ever be able to grasp...
"The lost word must be unearthed,
and we must dream inward and outward...
and there, toward the living center of origin,
beyond end and beginning."
-Octavio Paz
11/28/2007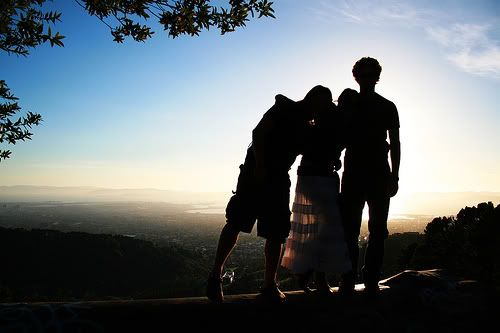 Trent Simpson
www.internationalvagabond.blogspot.com
International Vagabond